TF Ministry of Defense
From TF Library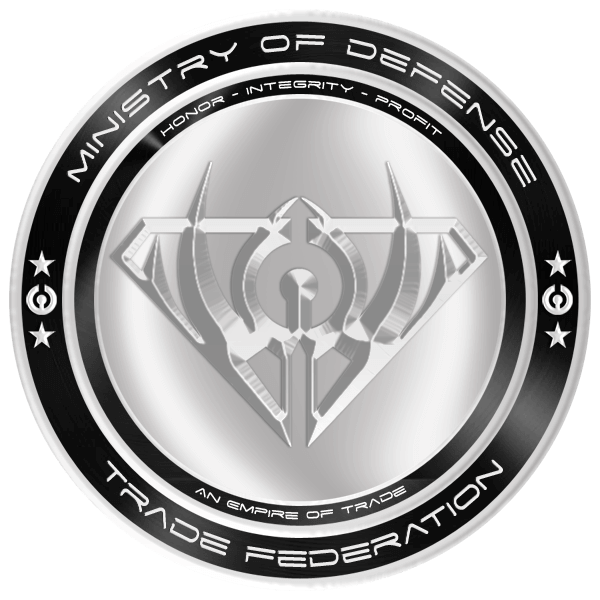 Mission
The Ministry of Defense is tasked with the overall defense and security of all Federation territory/space. All ministry personnell go through rigorous training before graduation. The education continues throughout the entire service tour to ensure that Trade Federation is kept safe. Only the best and biggest warships are used by the ministry, and are piloted by the best and highest ranked personnel.
Minstry of Defense
The Ministry of Defense (MoD) serves as the military branch of the Trade Federation. This all-important aspect of the Trade Federation defends Federation territories from invasion in wartime, and keeps law and order in them in peacetime. This ministry also guards Trade Federation building projects, provides escorts for important personnel, and patrols trade routes to and from Trade Federation Space. The MoD was once divided into two departments, the TF Department of the Navy and the TF Department of the Army, but now remains under a single heading.

The Minister of Defense is the head and chief executive officer of the Ministry of Defense. The Minister of Defense is appointed by the Viceroy with the approval of his Cabinet. Along with the day to day management of the Ministry, the Minister serves as the chief military advisor to the Viceroy and is a voting member of the Trade Federation Cabinet.
Departments
Ranks
| Level | Rank Name |
| --- | --- |
| GL-2 | Minister of Defense |
| GL-1 | Deputy Minister of Defense |
| HC-2 | Admiral or FSS-General |
| HC-1 | Vice Admiral or FSS-Lt. General |
| C-5 | Rear Admiral or FSS-Colonel |
| C-4 | Commodore or FSS-Lt Colonel |
| C-3 | Line Captain or FSS-Major |
| C-2 | Captain or FSS-Captain |
| C-1 | Commander or FSS-Commander |
| O-5 | Lt. Commander or FSS-Chief Inspector |
| O-4 | Lieutenant or FSS-Senior Inspector |
| O-3 | Second Lieutenant or FSS-Inspector, 1st class |
| O-2 | Chief Warrant Officer or FSS-Inspector, 2nd class |
| O-1 | Warrant Officer or FSS-Inspector, 3rd class |
| E-5 | Chief Flight Sergeant |
| E-4 | Flight Sergeant |
| E-3 | Flight Corporal |
| E-2 | Crewman |
| E-1 | Cadet |